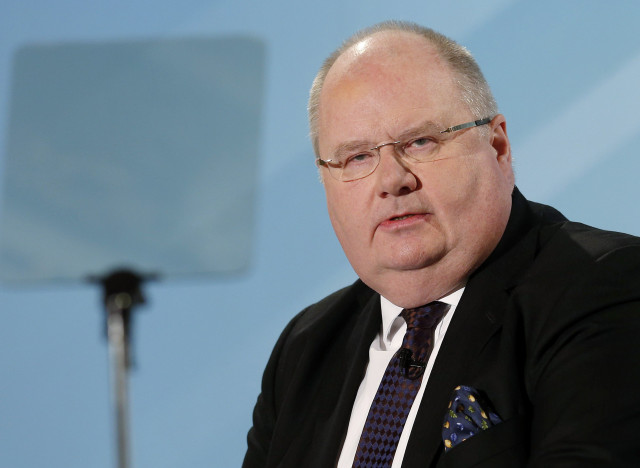 We all take many things for granted and some of those things are often the services provided by our council. So when our bins aren't emptied because of the bad weather – we notice. When our roads need repairing – we notice.
But there are lots of other services that we pay little attention to, things that just happen. Our streets are cleaned, services are provided for children and young people, we have libraries, community centres, schools and advice services. Pavements are repaired, parks are maintained, trees are pruned…the list is endless.
But all these services are now under threat as a result of the huge cuts to the grant that Birmingham gets from central government.
Media reports quoting Sir Albert Bore with his 'jaws of doom' and his prediction that 'this will be an end to local government as we know it'  did so mockingly. But these words reflected the perilous position we are currently in.
The Labour Administration took over the running of the council just over a year ago following  9 years of disastrous management by the Tory and Lib Dem council leadership. Despite the very good work undertaken by the Labour administration to balance the books against huge funding reductions and the need for efficiency savings, they are still facing an uphill battle. This difficulty compounded further with Birmingham being short changed by £79m from central government. This reduction in funding brings with it huge problems to those with responsibility to oversee services in a city of Birmingham's size.
Parliament's Public Affairs Select Committee have recognised this very real and serious situation and have recently undertaken a review of the financial sustainability of local authorities. The results have sent alarm bells ringing.
Margaret Hodge MP — Chair of the Committee says:
"Central government is cutting funding to local authorities by more than a quarter over four years but does not properly understand what the overall impact will be on local services…Local authorities are tending to cope with funding reductions. But in the long term there might well be little room for further efficiency gains and services would have to be cut. There needs to be frank and open dialogue between central and local government and the public on just what services councils will be expected to provide in a prolonged period of declining funding."
But it is likely that Pickles, Cameron and Osborne will take no heed of these warnings…
We need to stand together and demand that Birmingham gets a fair deal from the ConDem government. Together we are stronger and our voice is louder. Please support the Labour Party in Hall Green and in Birmingham and remember who are the real villains in this.
To great sighs of relief, at least around the Cabinet table, yesterday we learned that we have just about managed to avoid a triple-dip recession, with growth in the last quarter of a whopping 0.3%. Doesn't sound that impressive, does it? The truth is that yesterday shouldn't have been a relief at all. A triple-dip recession shouldn't even have been a possibility. Yet such has been the failure of George Osborne's economic plan, it almost seems like a great victory.
The danger is, of course, that George Osborne will see it as exactly that: a victory. We have lost our AAA credit rating with two agencies in the last few months, something which the Chancellor took as a vindication rather than a warning. This bit of relatively good news will no doubt put an extra spring in his step. The reality of the situation is, though, that the economy is still in a bad place – we're only just back to the same place we were six months ago. The economy is flatlining, and things show no real sign of significantly improving any time soon. Most sectors of the economy are still performing incredibly badly; it's only the service sector that has shown any real sign of life. Osborne needs new ideas, and he needs them fast.
The consequences of Osborne's failure are visible right across the country, but they are abundantly clear in our communities in Birmingham. Unemployment remains high, particularly among young people, and welfare cuts and the shameful bedroom tax are being implemented as the cost of living continues to rise. The Guardian has highlighted this week the damage that is being done to Birmingham by the government's cuts – all of the pain, for no economic gain. What Birmingham and other cities around the country need is a Plan B, with jobs and growth at its heart, to ease the pressure on the people who are suffering under this government. Labour has been saying all along that the government needs to change course, but with each quarter of no growth, no jobs and no hope, the need for a positive economic alternative becomes clearer.
Labour councillors are working hard to get the best deal for our city, but are constrained by the unfair cuts that the government has foisted upon them. It is not just the growth and jobs that are lacking,  but a fair deal for cities like Birmingham.
Our Hall Green councillors and campaigners have been calling for a better deal for Birmingham – it's time the government took note. The council is being forced to make tough decisions, while leafy, Tory-dominated suburbs take none of the pain. We're not all in this together and we're not one nation. Birmingham residents are one the receiving end of the damage caused by the government's economic failure and its refusal to give Birmingham a fair deal.
So Birmingham, and the country, need a Plan B. We all see that Plan A has failed, but the Chancellor sticks stubbornly to it. We need two things: firstly, we need jobs and growth, to get our economy moving again and to ease the burden on Birmingham households; secondly, we need the government to give Birmingham a fair deal instead of prioritising their own heartlands. We desperately need something to change. To borrow a phrase from David Cameron, we can't go on like this.